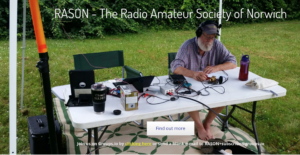 Tim Rodgers, KC1TWR, writes:
Come to the [Radio Amateur Society Of Norwich] fall auction and get some new to you gear or parts! Our annual Auction is on October 30 at Our Lady of Lourdes Church Hall (1650 CT Route 12, Gales Ferry, CT). This is one mile south of our usual Gales Ferry Fire House
Setup is at 7 AM. Doors open for sellers at 8 AM. Buyers are welcome beginning at 9 AM. The live auction begins at 10 AM. Talk in is on 146.730 MHz (- Offset, PL 156.7 Hz). There will be many items up for sale, and food will be available. Admission is $5 and includes a complimentary donut and coffee. Masks are required on everyone while inside of the building. Please come to support the club, sell your unwanted radio items, and grow your equipment collection!
Please pass this on to your club members, and any other clubs or people who might be interested.