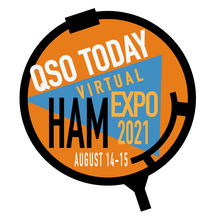 The third QSO Today Virtual Ham Expo is scheduled live from August 14-15, 2021 and then on-demand for 30 days.
The event organizers "promise a flawless, great learning experience for those seeking to improve their knowledge and to be exposed to new ideas, equipment, and practical techniques – all done in a highly engaging format on the vFairs platform that we used in our first August 2020 Expo."
ARRL, the national association for Amateur Radio, is a QSO Today Virtual Ham Expo Partner. FlexRadio is the Expo's Platinum Sponsor. Gold sponsors as of this time are Elecraft and RFinder.
Registration begins on July 1st, 2021. Full registration Early Bird Tickets are just $10 and then $12.50 "at the door." Full registration includes access to the entire Expo including presentations and the 30 day on-demand period. Free registration includes access to exhibitors, prizes, general lounge and lobbies. If you were registered to the March Expo, then you already have a free registration to the August Expo.
For more information and Expo Updates, go to https://www.qsotodayhamexpo.com.