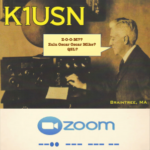 "Pi" Pugh, K1RV, writes on the K1USN mailing list:
I'm happy to announce that our upcoming speaker for the next K1USN Radio Club Zoom series will be none other than our ARRL New England Director Fred Hopengarten K1VR. This upcoming session will take place on Wednesday, April 28th at 7:30 PM EDT. (Note the date change for this session only to be held on Wednesday instead of Tuesday.)
Fred plans to discuss the following subjects and then have a Q & A followup.
"I'd be happy to talk about the new RF exposure rules. I have new info to share on that topic, and not just what you read in the ARRL press release."
<…>
Put your thinking caps on and come up with some good questions to ask Fred. As many of you already know, Fred is the author of Antenna Zoning available through the ARRL Bookstore.
As always, we will be sending out the Zoom session invitations via separate e-mail. If you have received previous invitations then you are already on the list. if you, or anyone you know, would like to be invited then you can contact me (k1rv@arrl.net) and I will add you/them to the growing list.