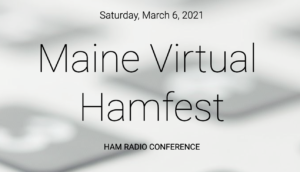 KU1U and W1SK write on the Maine ARRL Members List on February 27, 2021:
The Maine Virtual Hamfest is 1 week away! SATURDAY MARCH 6, 2021, 9 AM to 4 PM Eastern.
If you have not yet registered, please register now so we will know how many people will be attending. You can go here to register: http://mainearrl.org/MVH.
Talks will be via Zoom and are limited to 500 people.
There will be other rooms available using FreeConferenceCall.com which allow up to 1000 people per room. FCC will have video conference rooms for "Eyeball" QSOs and a Swap/Buy/Sell room for people to showcase items they want to sell.
There will also be an IRC webchat in the room #mainehams for people who might be mic/camera shy.
We understand this hamfest is taking place during a major contest weekend. We wish that we could have had it on another date, but the fester was moved once already and to ask our keynote speakers to move a third time did not seem fair. To all of the contesters, we wish you luck in representing the State of Maine well in the contest.
We will be recording the talk sessions for those to view at a later date in case you are not able to attend the hamfest.
There will also be a phone call-in option for those who may not have the ability to get online. Phones numbers will be shared this week on various nets. We kindly ask that you use only one option per conference room since tuning in via the web AND calling by phone will take up 2 seats in the limited seating available.
We look forward to "seeing" you next Saturday between 9AM and 4PM. Please visit mainearrl.org for more information, click on the hamfest button at the top which will take you to the Maine Virtual Hamfest website. If you have already registered, please do not submit duplicate registrations.
73 DE KU1U and W1SK
Cory and Joe
Maine Virtual Hamfest Co-Chairs