From ARRL Letter, November 12, 2020:
The latest episode of the On the Air podcast (Episode 11) discusses how to choose the right antenna for your station, considering several aspects that go beyond cost and complexity.
The latest edition of Eclectic Tech (Episode 20) features an interview with ARRL Emergency Preparedness Director Paul Gilbert, KE5ZW,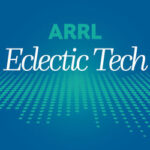 about the future of amateur radio technology in public service. Also: A new power source that uses diamonds and nuclear waste.
The On the Air and Eclectic Tech podcasts are sponsored by Icom. Both podcasts are available on iTunes (iOS) and Stitcher (Android), as well as on Blubrry — On the Air | Eclectic Tech.