What is ham radio?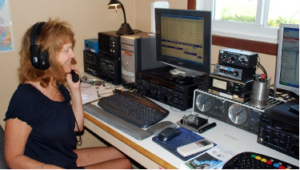 Amateur Radio, or "ham radio," is a popular hobby and service that brings together people who use radio. For more than a century, Amateur Radio operators have used the airwaves with every conceivable means of communications technology. Hams enjoy learning and practicing a variety of ways to transmit and receive radio signals, including voice, data, and pictures, over the airwaves to unusual places, both near and far, without depending on commercial systems.
People use ham radio to talk across town, around the world, and even into space, all without the Internet or cell phones. They learn about, develop skills for, and practice radio communications and radio technology. Their use of radio signals, which reach beyond borders, brings people together culturally while providing essential communication in the service of communities. Ham radio is fun, social, educational, and can be a lifeline during times of need.
You can read more about Amateur Radio at https://en.wikipedia.org/wiki/amateur_radio.
Who are we?
Amateur Radio operators come from all walks of life—movie stars, missionaries, doctors, students, politicians, truck drivers and just plain folks. They are all ages, sexes, income levels, and nationalities. But whether they prefer Morse code on an old brass telegraph key, voice communication on a hand-held walkie-talkie or shortwave radio, or even bouncing their signals off the moon, they all have an interest in what's happening in the world and they use radio to reach out.
Emergency communications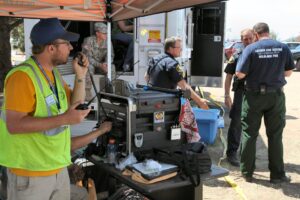 Ham radio can save lives. It's a hobby that instantly turns into a life-saving service whenever there's a disaster or large-scale emergency. When hurricanes like Katrina, Rita, and Wilma or tornadoes or floods knock out other communications, ham radio provides vital life-and-death capabilities. But 99% of the time, hams do what they do because it's just plain fun. Amateur Radio operators provide an essential public service. During times of disaster, amateurs provide reliable communications when the normal infrastructure is damaged, disrupted, or offline.
The National Association for Amateur Radio, the ARRL, has built relationships with several served agencies including the Federal Emergency Management Agency (FEMA), the American Red Cross, the National Weather Service, the Salvation Army, and many others.
You, too, can become involved in providing essential communications to your community in times of need by joining a local ARES® (Amateur Radio Emergency Service) program in your area.
You'll find a great introduction to Emergency communications at https://youtu.be/NGD7Mr7-2tg.
Public service events
Many public events, like: marathons and bike races, parades, festivals, and charity events, often ask for assistance from Amateur Radio operators to keep track of what is happening on a race course: communicate if a participant needs medical attention, give directions, and coordinate the flow of traffic.
In some cases, the distances on a course are so great that it can render the use of a cell phone or texting untenable. That's where ham radio "networks" are so valuable—all "checkpoints" along the course are in "live" contact on the frequency. A single network control station acts as a "traffic cop" to direct messages in an organized fashion.
Channel your volunteer spirit! Get involved with offering public service via ham radio. Your expertise will be welcome.
You can find out more about Public service communications by visiting https://youtu.be/OtOi_vFq4Qk.
Friendship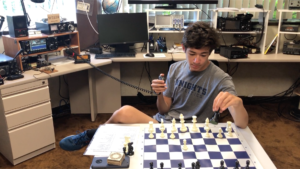 Amateur Radio is a great way to make friends around the world—you are only a radio chat away from learning about other people, their radios and antennas and about their lives. Radio contacts can be very short (an exchange of name, location, and signal report) or much longer. There is no time limit. Many a casual contact has developed into long lasting friendships across town—or across the globe.
Hams often meet at certain times and frequencies on networks, or "nets," to exchange weather reports, or to discuss common interests. They might even send and receive formal written messages, called "radiograms," on behalf of third-parties.
Mentoring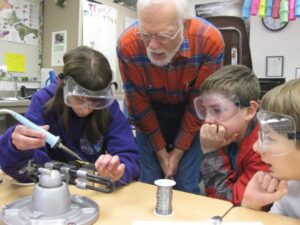 If you're active in the Amateur Radio hobby, you're bound to help others. That act might be as simple as offering advice about the best radio to buy, or showing a newer ham how to program their radio with the local frequencies. If you're electronically inclined, perhaps you'll assist others with a kit building project.
Many amateurs take great delight in demonstrating the Amateur Radio hobby to the boy and girl scouts and members of the general public. Others mentor newer hams by showing them how to make contacts on the air for the first time, or getting them involved in a new operating activity—like radio contesting, operating from parks, or hidden transmitter hunting.
Many radio clubs have establishing mentoring programs for their newer members. There's probably one near you!
The old adage is certainly true—when you help others, you get more than you give.
Find out more at https://youtu.be/ebZxzGG45zQ; also, visit https://nediv.arrl.org/mentoring-and-new-ham-development/.
On-air radio contests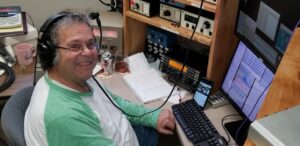 Like the thrill of competition? Ham radio gives you countless ways to rack up "points" in a specific contest—how many "contacts" can you make in a weekend on a certain frequency? Want to see how many counties you can contact in a specific state? Do you want to compare yourself to hams around the country and around the world? Check out all the choices—so many contests, so little time. You can contact others by voice, Morse code and even via the computer.
To learn more about radio contesting, check out https://youtu.be/tqE8kWcxeJc.
Kit building & experimentation
Building radio gear from kits can be an enjoyable and fulfilling experience in Amateur Radio. Learning and understanding electronics and circuitry are part of the reward of getting your handiwork "on the air."
In addition, decades-old used ham radio equipment can often be purchased inexpensively. Many find great pleasure in modifying and restoring vintage equipment so that it can once again be used on the air to make contacts.
Also, many hams spend hours building and refining antennas for various frequencies to get the best propagation, given the limitations and opportunities of the landscape of where they are operating. Experimentation is a key part of Amateur Radio!
Want to know more? View this informative video at https://youtu.be/IJck_2VOqjA.
Controlling drones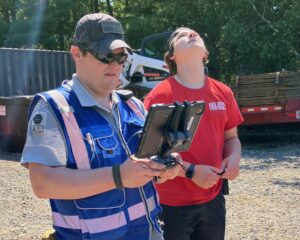 Did you know that an Amateur Radio license is the perfect accessory for your drone? Many drone pilots are also Amateur Radio operators and combine their passions of model aviation and wireless technology. The FCC rules allow for control of model craft with an Amateur Radio license. This can enable long range control of drones, as well as robust transmission of video and telemetry. The best part is that the entry-level Technician license is all you need.
Why get a license though? Can't I already use my drone without a license?
In many cases yes, but… an Amateur Radio license opens up a whole new world for the drone pilot or model craft hobbyist. Licensed Amateur Radio operators can not only run higher power on less crowded frequencies, but we can even custom build our own transmitters and receivers. Your FPV (first person view) drone especially can offer a clearer video signal using a high power video transmitter with Amateur Radio.
Check out https://youtu.be/hSYJzOAeVzA to learn more!
Severe weather reporting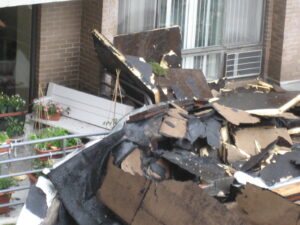 Amateur Radio operators often assist with critical communication services during severe weather events between the National Weather Service (NWS), local emergency management, and storm spotter networks.
Ham involved in spotter networks offer valuable information to their local NWS offices, providing "ground truth"—actual human observations that forecasters cannot always glean from radar information. Such information might include reports of hail, winds that are greater than 40 miles per hour, damage from downed branches and power lines, and structural damage. Also valuable for forecasters is information regarding rainfall amounts of one inch per hour or greater. During the winter, precipitation type change (rain to sleet/freezing rain/snow) is important information, as is a quarter-inch or more of ice formation on tree branches.
Channel your love of meteorology while helping your community prepare for severe weather events. Become a trained SKYWARN spotter and use ham radio to report dangerous weather conditions.
Learn more at https://youtu.be/Cv2gQ14n4JM.
Hidden Transmitters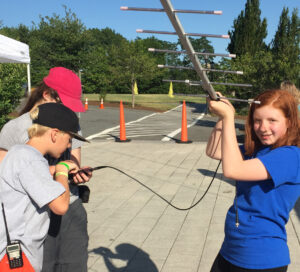 Finding hidden transmitters, or "fox hunting," can be a lot of fun. It's a sport that combines radio technology with hiking, running, or just a walk in the woods in search of a hidden transmitter. Almost every weekend, you'll find hunts organized by local radio clubs, but anyone can participate—no license is required and there's no age limit to join in the fun!
The fox is a small transmitter, broadcasting a signal at low power, and hidden somewhere in the woods or a public area. The hunters, or hounds, are given instructions on where to begin and they use their portable receivers and antennas to home in on the fox. But it's not always as easy as it sounds. The foxes are cunning and sly, hiding under leaves or between rocks, and sometimes they even hang from tree branches; the hounds must use a lot of skill to find them. A fox can usually be found within an hour, but sometimes several foxes will be hiding, and you have to find them all.
The equipment is simple and inexpensive. An antenna can be built with parts from the local hardware store, and the receivers are usually surplus ham radio gear or scanners from a thrift shop.
See https://youtu.be/HQxGJDvRnPU to learn more.
Scouting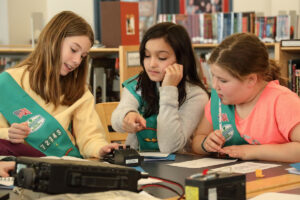 Are you a
scout
(or a
scout
leader) and want to try your hand at connecting with new people across the globe using basic electronics and antenna technology? "Jamboree on the Air" (JOTA) is an annual Amateur Radio event that enables
scouts
to make contact with like-minded peers all over the world. You do not need to be a licensed operator ("ham") to participate;
scouts
can visit participating Amateur Radio operating stations to learn about the technology and try out their equipment. With a "ham ticket", you can contact other people directly using a variety of technologies—such as voice communications, digital, Morse code, or computer-based protocols. Over two million
scouts
participate annually.
With a shared interest in preparedness and life skills, Amateur Radio and communications technology has been a part of the
Scouting
curriculum for over 100 years. The "Wireless" merit badge was created in 1918, and today's "Radio" merit badge teaches
scouts
about call signs, the electromagnetic spectrum, phonetic alphabets and codes, basic electronics and antenna technology, and safe operating practices. For anyone interested in learning about Amateur Radio operating and communications technology, JOTA is a great place to start, make friendships, and have fun!
The great outdoors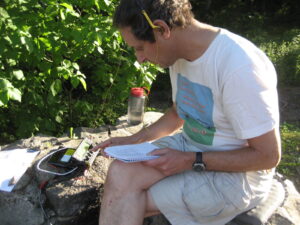 Using Amateur Radio you can hike to most remote places and still stay in touch. Imagine hiking to the top of a nearby mountain and talking with other hams all over the world, or spending an afternoon, evening or weekend at a state park and enjoying conversations with fellow radio enthusiasts.
Many beautiful locations are out of cell phone range; be satisfied in knowing that you can reach out wherever you are. Take a radio into the great outdoors and enjoy the nature you love while keeping in touch with others.
Parks On The Air (POTA) and Summits On The Air (SOTA) are two ham activities that take advantage of the ever-shrinking size of high-quality ham radio gear. Today, you can buy (or build your own) radio that is smaller than a lunch box and weighs less than a pound. Your antenna is a spool of wire that weighs a few ounces. Add a small 12-volt battery (or 12 volts from your camper or other source) and you're good to go!
Check out this Parks On The Air 101 video: https://youtu.be/JHuJ3i99D6U.
Coding Software Applications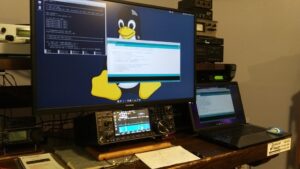 Many people with a talent for coding have written software programs and applications to perform all manner of functions, from: predicting the best radio propagation times and frequencies; controlling rotators for beam antennas, radios and other station equipment remotely.
Entirely new digital modes of communication have also been created in software.
There are large ham radio software collections available in the public domain for free or nominal cost.
High-altitude ballooning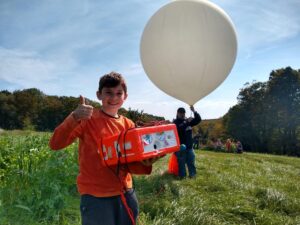 Imagine launching a radio-equipped balloon that reaches the edge of the atmosphere. High-altitude ballooning is a multi-skilled hobby in which you get to explore a region of the earth "Near Space" without the need for enormous budgets and national departments or agencies. It tests your abilities to plan, design and construct electronics, teaches you about radio theory and Global Positioning System modules and then allows you to put all this to the test at an altitude of 30 kilometers, minus 50 degrees C and less than 1 percent atmospheres. Oh, and it's a lot of fun!
Check out the video to see what happened! Click here.
Okay, I'm interested! How do I get into ham radio?
Here's how to join in the fun!
You need to obtain a license via the FCC (Federal Communication Commission).
When you pass the easy entry-level (Technician) license exam, you will get a "call sign," which is your "identification" when you're on the air.
There are three levels of licenses: Technician, General, and Amateur Extra. You begin with a Technician license and then move up to General to obtain additional privileges and frequencies. If you want even more privileges, you can pass the Extra exam.
You can study on your own, online, or with written material, but it's always fun to learn and study with others. Contacting a club is the best way to start (see below for clubs near you).
Here are some useful resources to get you started:
Check out this video for a quick introduction: https://youtu.be/9mcVLxQUSak
http://www.arrl.org/exam-practice contains examples of FCC license exams and online practice exams.
How do I find a club?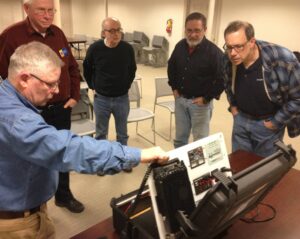 Amateur Radio is a hobby that's more fun with others. Join a local club and enjoy the hobby together! Belonging to a local club can bring assistance and mentoring and lead to new friendships. Attending club meetings can complement your on-air relationships and bring a valuable social component to your life.
Many clubs exist to promote the hobby in general. Still others exist to promote some specific purpose: contesting, public service, repeaters, an affiliation with a school or college, or a served agency like the American Red Cross or Salvation Army.
To find clubs in your area, visit https://nediv.arrl.org/new-england-arrl-affiliated-club-map/.
What about equipment?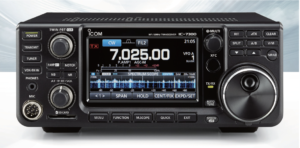 There are so many options for equipment depending on what you want to do!
Ask other hams for their opinions, look at videos online, get some hands-on experience with club members and their radios.
This video has some handy information on buying your first radio: https://youtu.be/lssnwwWPvqc
Where can I find more information?
A good place to start is at: http://www.arrl.org/get-on-the-air. You'll find information on buying your first radio, building simple antennas, making your first contact, and contest basics.
Fill out our online survey
Please take a moment and fill out our brief survey. You can include your name, address, and contact information if you want to find out more information about the exciting hobby of Amateur Radio!