UPDATE: The BIG E Space Chat WAS A HUGE SUCCESS!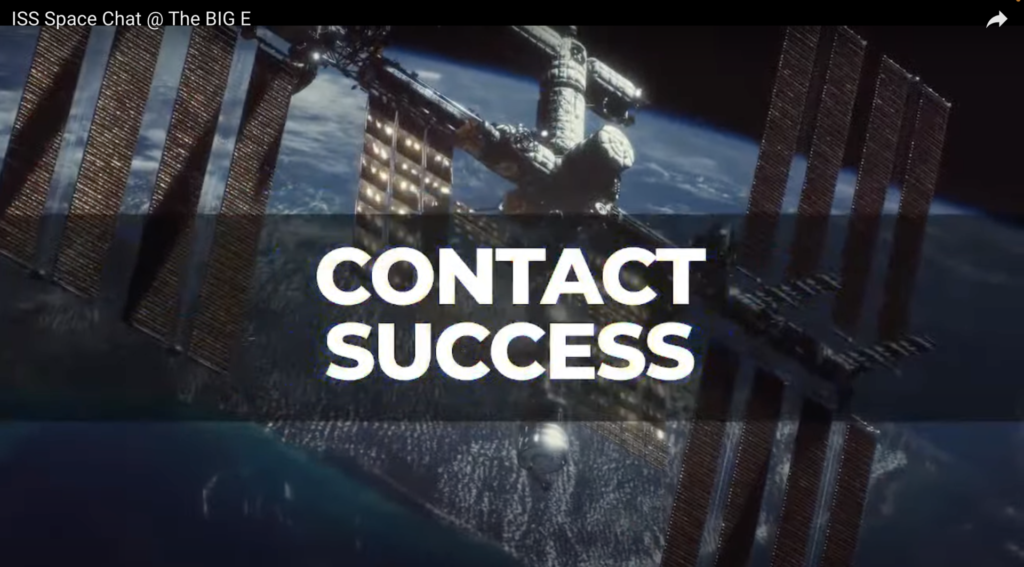 On September 27, a select group of youths at The BIG E in West Springfield had a once-in-a-lifetime opportunity to chat with an astronaut aboard the International Space Station (ISS) orbiting 260 miles above the earth.

Along with them, hundreds of Big E attendees and spectators watched the live contact as it occurred from the Big E Arena. See www.youtube.com/watch?v=hdxnD8uF8t0. The actual contact happens at about 1:14:45 into the video.
How It's Done
The youths will talk to an astronaut using Amateur ("ham") radio. Ham radio is an important tool aboard the Space Station. It's used by the astronauts not only for recreational and educational purposes but it serves as a backup emergency communications system should the ISS primary communications ever fail.
The BIG E Space Chat and the associated educational program are a result of a partnership between The BIG E, NewEngland Sci-Tech (a STEM education group in New England), Amateur Radio on the International Space Station (ARISS), the New England Division of the American Radio Relay League (ARRL), Black Helicopter Creative LLC, and local Amateur Radio organizations.
What's It Like
What do the conversations sound like? Here is a video of an ARISS contact with a group of students in Hudson, New Hampshire:
Hudson Memorial School ISS Crew Contact – Short Highlights from Fred Kemmerer on Vimeo.
Kids around the world ask all kinds of questions of the astronauts. Here are just a few:
What are the inconvenient points about zero gravity?
What does it feel like to float with zero gravity?
How do you decide night and day in the ISS?
What is your daily routine on the ISS?
Can you change the speed of the ISS?
How heavy is a space suit?
Free Admission on Space Chat Day!
BIG News from The BIG E! Amateur radio operators will be provided free admission to The BIG E on September 27 on Space Chat Day. If you present an official copy of your FCC license at pedestrian gates 1A, 1B, 4, 5, 7 or 9A, you and up to three family members or friends can enter The BIG E fairgrounds free of charge. (You will need to pay for parking in the main Big E lot at Gate 9 or private neighborhood lots.)
Big E free admission for amateur radio operator and up to three guests (maximum 4 people) good on Space Chat Day only.
Official copy of FCC license to be presented to Gate Manager (also known as "Gate Captain") at Big E pedestrian gates 1A, 1B, 4, 5, 7 or 9A to receive free admission on Space Chat Day only.
Parking is not included.
Check out the Ham Radio Booth (#103, inside Door 6 of the Better Living Center) along with all the other fabulous exhibits at The BIG E; then, be part of and witness the exciting, live ARISS space station contact and astronaut Q&A in The BIG E Arena beginning at 1:20 PM on September 27.
For instructions on downloading a copy of your FCC license, visit <http://www.arrl.org/obtain-license-copy>.
A live video stream of the contact will be carried on the New England Sci-Tech YouTube channel at www.youtube.com/watch?v=hdxnD8uF8t0.
Opportunities to Learn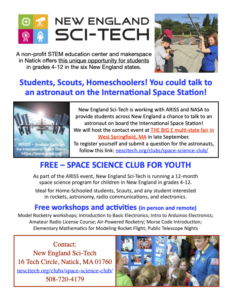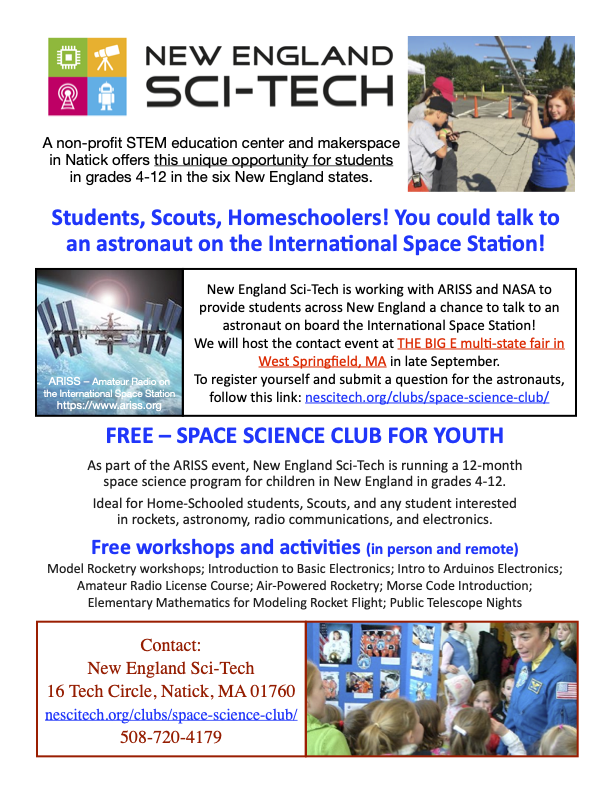 As part of the Space Chat program, New England Sci-Tech is sponsoring a 12-month STEM education program free of charge to all students grades 4 through 12, and Scouts in New England. The workshops will cover:
Model rocketry
Air-powered rockets and planes
Amateur radio license course
Basic electronic workshop
Elementary mathematics in modeling rocket flight
Introduction to Morse code
and much more!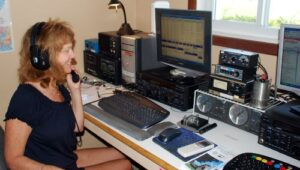 Amateur Radio
Amateur Radio (ham radio) is a popular hobby and service that brings people, electronics and communication together. People use ham radio to talk across town, around the world, all without the Internet or cell phones. It's fun, social, educational, and can be a lifeline during times of need.
You can set up a ham radio station anywhere–in your car, in a park, on a mountain top and, of course, at home. And if you're an astronaut, you can operate a ham radio in outer space!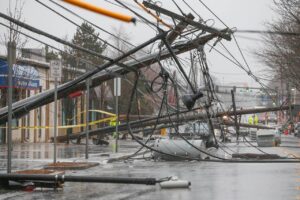 Although Amateur Radio operators get involved for many reasons, they all have in common a basic knowledge of radio technology and operating principles, and pass an examination for the FCC license to operate on radio frequencies known as the "Amateur Bands." These bands are radio frequencies allocated by the Federal Communications Commission (FCC) for use by ham radio operators.
Find out more about Amateur Radio by visiting the ARRL, the National Association for Amateur Radio®.
ARISS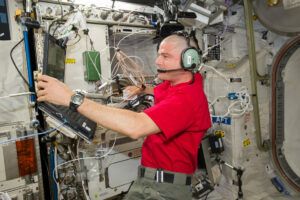 Amateur Radio on the International Space Station (ARISS) lets students worldwide experience the excitement of talking directly with crew members of the International Space Station, inspiring them to pursue interests in careers in science, technology, engineering and math, and engaging them with radio science technology through amateur radio.
The ARISS program was created and is managed by an international consortium of amateur radio organizations and space agencies including National Aeronautics and Space Administration (NASA) in the USA, Rosaviakosmos in Russia, Canadian Space Agency (CSA) in Canada, Japan Aeronautics Exploration Space Agency (JAXA) in Japan and European Space Agency (ESA) in Europe.

New England Sci-Tech
New England Sci-Tech (NEST) is a non-profit STEM+ education center and makerspace based in Natick, Massachusetts, dedicated to project-based, hands-on learning for youth and families across the New England community.
NEST provides classrooms and workshops in electronics, space science, ham radio, astronomy, robotics, photography, coding, computers, Arduinos, game theory, 3D design, wearable technology, telescope making, Cubes-in-SpaceTM, kite making, battlin' bots, and more.
More Information
To learn more about how your school or education group can get involved with the Amateur Radio on the International Space Station program, contact Mr. Fred Kemmerer at ab1oc@arrl.org
or visit:
To learn more about New England Sci-Tech, contact: