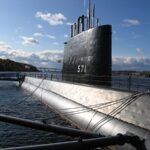 Harrison Solt, N1FAM, writes on the Radio Amateur Society of Norwich (CT) mailing list:
Museum Ships Weekend is three weeks away. It will take place from 8:00 PM local time Friday June 3rd until 8:00 PM local time Sunday June 5th. At last update there are 75 Ships/Museums registered. We are good to go at the Submarine Force Library & Museum on Crystal Lake Road in Groton, site of the Historic Ship USS NAUTILUS. We will use the call sign N1S.
We have permission to access the site for the entire event period. We will set up canopies and antennas Thursday afternoon, June 2nd starting at 1:00 PM. Set up will be around the picnic patio.
During the event we will have four or five operating positions. If you are available on Thursday your help in setting up is appreciated. During the event, all are welcome to visit and operate.
More up-dates will be posted as the event nears as well as any pending needs, we find we have regarding gear, support or whatever. Your thoughts on how to enhance or improve our operation and event are encouraged, requested, and appreciated.