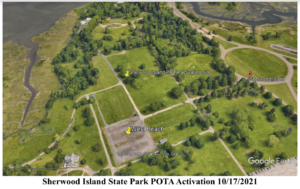 Peter Cimino, K1PCN, writes on the Greater Bridgeport ARC mailing list:
I will be setting up in a clump of tress just north of the West Beach Parking Area. It is flat and shady. Also, you can drive right up to the activation spot. I will be setting up an OCF Dipole for 20, 40 and 80m. Please bring a chair and lunch. I will have water and soft drinks available. Unfortunately it seems that all the restrooms are closed for the fall. I will be monitoring 146.58, the GBARC repeater and DMR talkgroup CT TAC1. If there is enough people, I can set up a second station and if you have a radio but need a battery or antenna to operate, contact me.
I look forward to anyone who would like to try HF. This is a two person job; running the station and logging. I am happy to log and let any of you take control of the station under supervision if needed.
Directions: Sherwood Island State Park is just off Exit 18 off I95. Once you enter the park, proceed straight into the roundabout. Take the first right (west) in the roundabout towards WEST BEACH. Continue straight through the first intersection and take a right (North) at the second intersection (just before the West Beach Parking Area). Continue 100 yards and I will be on the right. Look for my red Toyota Tundra Pick up truck.
GPS N41.114729° -73.334621°. We are 100 yards North of the West Beach Parking area
Any questions, please contact me. Peter K1PCN 203-767-5888